Fotivitum
Which Oral Spray is Right For You?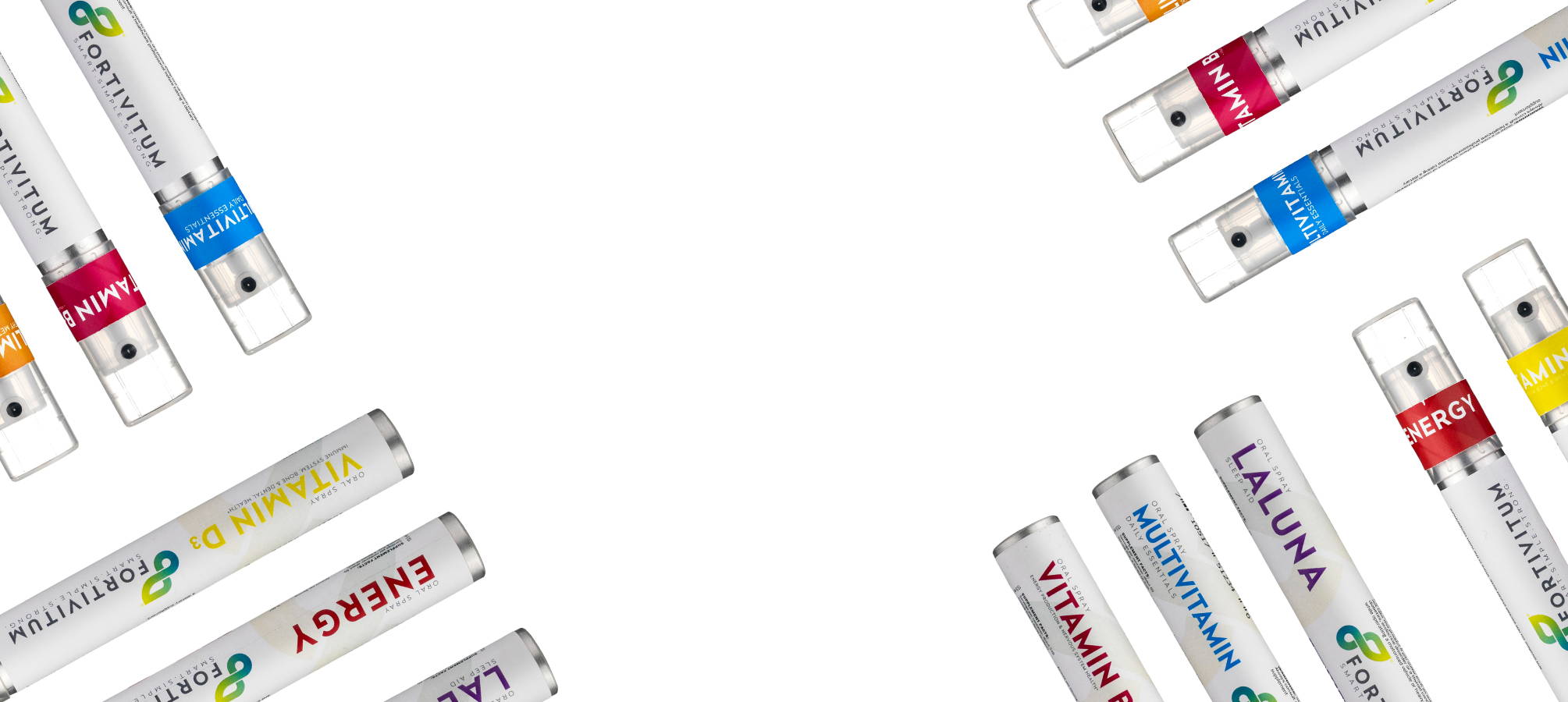 Why Fortivitum Spray
is the best choice.

Absorbed via membrane of your mouth

Up to 8 months of use

10 times more effective than pills

Small and comfortable

The best replacement to vegetarians, who doesnt get a lot of B vitamins without meat. I use it for almost 4 months, one bottle, it last long, it's very comfortable to carry it, and the taste is good as well, even though there is no sugar. Recommend!

THE BEST MULTIVITAMIN SUPPLEMENT FOR THE WHOLE FAMILY
I have bought few products of fortivitum, and this one is far best. My whole family uses it, because it has no danger to be affected by the bacterias, i just give a few sprays for my kids before school and i take the whole bottle with me to work. I can say, that the whole family feels the effect, more energy, more smiling. Best discovery!

Pleasant taste. Easier than taking Vitamin D in pill form

THE ABSOLUTE BEST VITAMIN D SUPPLEMENT ON THE PLANET
It's amazing, high quality and it works!!

GREAT FLAVOR,EASY ABSORPTION
Tastes great. Easy to spray in mouth once you've removed the safety flap cover and turned it to the spray position.
This is easy to give my kids vitamin D during the winter months since they love the taste.
It absorbs sub-lingually so you don't have to worry about absorbing it via the digestive tract.
Great for anyone who is low in vit D levels or has issues with gut absorption.

Using it daily, highly recommending. It has been 4 months since I started to use. The taste of vitamin is not disappointing as I expected

These are the best ones out there. Children make no fuss while taking them and the contents taste very nice.

Having suffered from low Vit D my whole life and trying all different brands of oral supplements with limited results, I'm delighted to have seen my levels raise to normal from using Fortivitum Vitamin D3 daily. It's great that this spray is now available in the US. And it last for 240 days!!! I LOVE IT!

Fortivitum Vitamin D3 is Excellent. Increases levels better than pill form.

Pleasant taste. Easier than taking Vitamin D in pill form.

Love that the vitamin D is a spray and not a pill. I have to take too many pills anyway, so it is nice to have a break. Love that it is a high amount of vitamin D. Couldn't ask for more.

I am grateful to the friend who introduced this product. Now I am a fan of him. Green honey helped me a lot. Now I use it only prophylactically. I give to the child as well. I am reassured when the house has at least a few packs of it 🤗 good luck to you and thank you for this product!

I got much moore when I had expected. I RECOMMEND!

I BELEIVE IT STRENGTHENED MY IMMUNITY
I have been using it for some time now and I can only enjoy how good I feel. In addition, green honey tastes very pleasant!

Super idea, kids are much more interested in taking vitamins
Subscribe to our newsletter
Recieve our latest weekly releases, offers, guides and more.